Why meat prices are rising despite surplus production
Despite a surplus in meat production, consumers in Dhaka city had to pay 10 per cent higher prices for broiler chicken meat and 15.04 per cent higher prices for beef yesterday from that a year ago.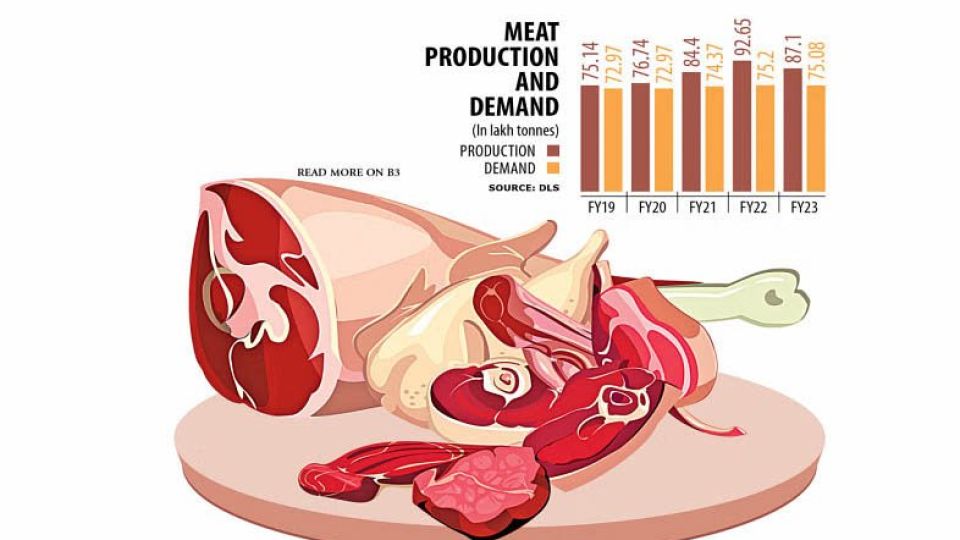 DHAKA – While the Department of Livestock Services (DLS) estimates a surplus of meat production in the country, prices of all – be it chicken meat, mutton or beef — have risen, raising questions about the authenticity of production and demand estimates.
Data from the DLS showed that meat production in Bangladesh stood at 87.10 lakh tonnes in fiscal year (FY) 2022-23 against a demand of 76.08 lakh tonnes, meaning there was a surplus of 11 lakh tonnes.
Despite the surplus, consumers in Dhaka city had to pay 10 percent higher prices for broiler chicken meat and 15.04 percent higher prices for beef yesterday from that a year ago, according to prices data compiled by the state-run Trading Corporation of Bangladesh (TCB).
DLS officials, poultry breeders and dairy farmers supported the surplus production estimate of the DLS and blamed the price spiral on an increase in the cost of feed and other inputs.
Analysts pointed out that the prices should have gone down as per the law of demand and supply
Analysts, however, pointed out that the prices should have gone down as per the law of demand and supply — that higher supply against demand causes prices to go down whereas prices rise when demand is higher than supply.
"It is natural for prices to go down if there is excess supply in the market. Here either demand is underestimated or supply is overestimated," said Selim Raihan, a professor of economics at the University of Dhaka.
He said demand has changed for changes in lifestyles. It appears that demand for chicken meat has increased for various types of chicken-based foods, he said.
Bapon Dey, head of poultry science department at Bangladesh Agricultural University, also expressed disagreement with the DLS estimates of production and demand.
"I am not satisfied with the authenticity of DLS's data. There are many differences between this data and the real scenario…This data creates a lot of confusion," said Bapon, an associate professor.
Shajeda Akhter, dean of the Faculty of Animal Husbandry of Bangladesh Agricultural University, said estimates made by various agencies of the government vary, so there is a difference in the data on production and demand.
She also said the price rise and fall don't depend on production and demand alone. "There are other related costs in the supply chain before meat reaches end-consumers."
Imran Hasan, secretary general of Bangladesh Restaurant Owners Association (BROA), echoed analysts.
"If the production of meat is greater than demand, it would have had an impact on the market. The price would have been lower than it is now. But that's not the reality," he said.
Yesterday, consumers had to pay up to Tk 780 to buy a kilogramme of beef. Two years ago, the maximum price of beef was Tk 600 per kilogramme.
And amid the high prices of meat, particularly beef and mutton, restaurant operators earlier this week urged the government for easing meat imports to increase supply of animal protein in the market and buoy their sales.
Mohammad Shah Emran, general secretary of Bangladesh Dairy Farmers Association, said the cost of feed, transportation costs and electricity costs were increasing.
Therefore, even though the country is self-sufficient in meat production, the price is increasing, he said.
"In the last one year, the price of almost all feed has increased by 50 percent, the cost of electricity has increased by 10 percent, and the cost of transportation has doubled," said Emran.
He claimed that as there was competition in the market, when the cost of production comes down, the prices would also come down automatically.
Moshiur Raham, managing director of Paragon Group, one of the leading poultry breeders and feed millers, said Bangladesh has a surplus of broiler chicken meat production and increased feed costs fuelled prices.
But, he said, prices of broiler chicken fell in July owing to a fall in demand. Seasonality and the desire of farmers to rear birds affect supply and demand, he said.
Shamsul Arefin Khaled, president of Bangladesh Poultry Industries Central Council, said broiler chicken meat has become dearer owing to soaring production costs.
In the last one year, the overall cost of production has increased by up to 33 percent resulting from a hike in the prices of feed, electricity and transports, he added.
The Food and Agriculture Organization (FAO) calculates meat requirement at 120 grams per person per day.
Reajul Huq, director for admin of the DLS, said people of Bangladesh were now eating 148 grams of meat per day.
The DLS official said they estimate production based on information provided by their field offices.
There are many factors behind the increase in the price of meat. The price of meat has not increased at the rate that the price of other products has increased in the last one year, he said.
Jahangir Alam Khan, an agricultural economist, said, "It is really difficult…to fully rely on the information given by the DLS on meat production in the country."
"On the one hand production is increasing, on the other hand prices are increasing — This is contradictory according to the theory of economics," he said.
"It was seen in the latest household income and expenditure survey that the consumption of meat per person in the country is very low," he said.
"So, statistically, it's very difficult to rely entirely on this data," said Khan, a former director general of Bangladesh Livestock Research Institute.