USDA forecasts Australia's 2024 beef production will be sixth highest on record
THE United States Department of Agriculture's Foreign Ag Service has issued its annual report on Australia's livestock and beef outlook, suggesting next year could see beef production reach the sixth largest volume on record at 2.25 million tonnes, and exports reach the fourth highest level on record.
Each September USDA's FAS and the Global Agricultural Information Network release annual reports on major beef producing countries, including Brazil, India, Australia and others.
This year's report on Australia forecasts beef supply to build further in 2024 reaching the sixth highest production on record. Following a strong cattle herd rebuild since 2020, Australia's beef production achieved a significant turning-point this year, the report says.
First-half beef production was up 15pc year-over-year to 1.05 million tonnes, with full calendar year 2023 production estimated to grow 16pc to 2.17mt.
Current 2023 year beef exports are projected to reach 1.53mt carcase weight equivalent, up 23pc from 2022, with Australia set to regain some market share in major Asia markets.
Next year, FAS anticipates Australia's beef exports to grow another 5pc to 1.6mt, the fourth highest level on record. Australia's exports peaked back in the 2015 drought year at 1.77mt.
Through August this year to date, Australia's grainfed beef exports were up 4pc year-over-year, while grassfed exports were up 29pc, the FAS report said.
Japan is still Australia's leading grainfed destination, but volume fell 6pc. Grainfed exports to China were up 14pc and rebounded to Korea, increasing 7pc.
Cattle, beef prices fall
With increasing supply of beef in 2023 and onset of dry conditions, Australian cattle prices have fallen by more than 40pc (at the time the report was compiled) since the end of 2022, with declines in retail beef prices emerging in the second half of 2023 and expected to continue into 2024.
2024 production
Calf crop production in 2024 is forecast to decline from the current year, FAS says.
The key factors are that female slaughter rates have begun increasing in 2023 indicating that the herd rebuild (including breeder numbers) is nearing its endpoint.
This is following a national herd growth period subsequent to the multi-year drought in 2018-2019. A further factor is that the forecast of dry conditions is expected to have some negative impact on conception and subsequent calving rates.
Female slaughter rates are anticipated to return to around long-term average levels in 2024 after the trend of low slaughter rates in 2021 and 2022 began to moderate from the start of 2023 and in particular the second quarter of 2023. This marks the start of the slowdown in the growth of Australia's beef herd which is expected to continue into 2024.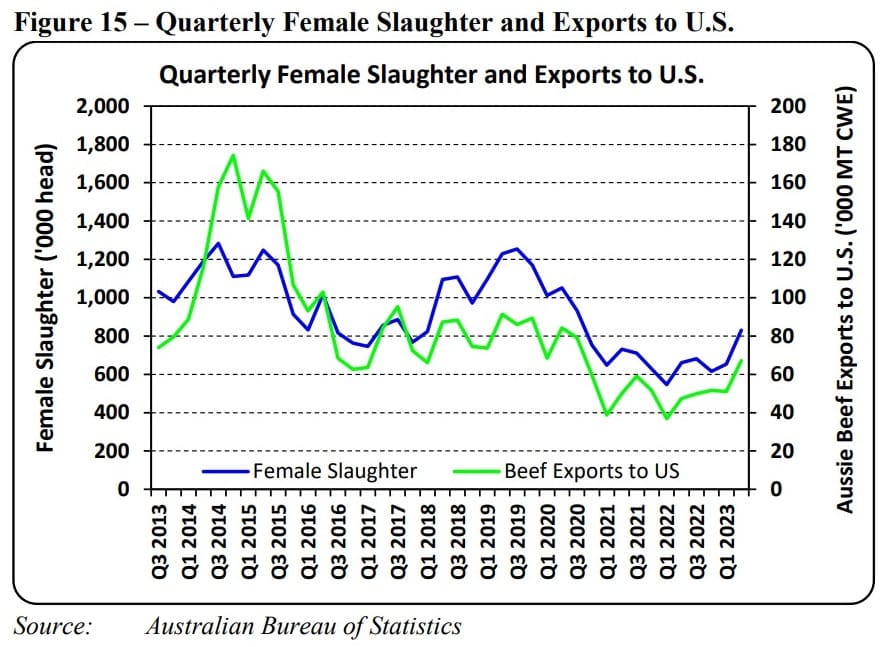 2024 Slaughter
FAS forecasts an increase in Australian cattle slaughter in 2024 to 7.5 million head, a 380,000 head increase over MLA's upward-revised 2023 estimate of 7.1m head. As part of the herd rebuild, young cattle numbers have built up to an extent that the number of cattle ready for slaughter will increase in 2024, it says.
The Bureau of Meteorology forecasts a high chance of below-average rainfall across much of the country for September to November 2023. If such conditions prevail, they will have a particularly negative impact on cattle production for processing in the more southern temperate areas.
These areas are dependent upon spring rainfalls to produce grass feed and carry cattle through the summer and into the fall of 2024. A shortfall of grass feed may result in an uplift in cattle sent to feedlots to reduce stocking rates and finish cattle for processing sooner – particularly from central and northern New South Wales and southern Queensland which have been drier than usual so far this year.
This would slightly lift the cattle slaughter number for the final quarter of 2023 and reduce the growth for 2024, the FAS report said.
The potential bringing forward of cattle slaughter from 2024 to 2023 via an uplift in cattle finished via feedlots will be tempered by processor capacity, it said. Industry reports suggest that processors are still having challenges finding enough labour to establish more shifts and process more cattle.
Many processors are reporting that they are fully booked more than one month in advance, and some are booking places beyond that but without price offers. There are reports that some more processor capacity is likely to come online during 2024 which should satisfy the lift in forecast cattle slaughter numbers for 2024 from the 2023 estimate.
2024 production
For 2024 there is an expectation that overall slaughter numbers will increase, but the proportion of feedlot cattle will decrease marginally. While the number of feedlot cattle are likely to continue to rise, slaughter of grassfed animals is expected to increase by a little more, FAS said.
Based on past trends, the average carcase weight for Australian adult cattle slaughtered is expected to decline in the 2024 year to 314 kg, compared to an estimated near 317kg for 2023. Typically, grassfed finished cattle have lower slaughter weights than cattle finished in feedlots.
Dry conditions reducing pasture growth and the stage of the national herd rebuild, which influence the proportion of female slaughter numbers, are impacting on the forecast reduction in average carcase weight for 2024.
The below average rainfalls in Queensland and New South Wales so far in 2023 along with the forecast of below average rainfall in the coming months is likely to have an impact on pasture production, particularly in the more southern temperate climate regions which are dependent on good spring rainfalls. If the rainfall forecast prevails, lower pasture production will negatively impact weight gains of cattle that farmers plan to send for processing in 2024.
Female slaughter weights are on average lower than that of males, and the increasing proportion of female slaughter evident in the first half of 2023 is expected to continue its trend towards the long-term average for the remainder of 2023 and in 2024.
The anticipated higher female slaughter rate is expected to contribute to the expected lower average carcase weight forecast for 2024.
2024 consumption
FAS forecasts a small increase in domestic Australian beef consumption next year, to 675,000 tonnes carcase weight equivalent. That's up from the upward revised 2023 estimate of 665,000t.
This increase is related to the forecast rise in beef production which in turn is anticipated to result in a decline in retail beef meat prices in the second half of 2023 and into 2024.
This is expected to improve the competitiveness of beef compared to other meat proteins, but it will still by far be the most expensive of the major meats (beef, lamb, pork and poultry).
But the big rise in the cost of living experienced in 2022 and 2023, is expected to continue to have a dampening effect on beef consumption, hindering a greater rise in forecast beef consumption for
US herd rebuild, export competition
With the United States livestock industry is reported to have now turned towards a national herd rebuild phase after a period of drought, supply of US beef for exports has declined by around 11pc in the first half of 2023, FAS reported.
The three major beef export destinations for the US of South Korea, Japan and China are also major export destinations for Australia. Australia has begun regaining market share to its major beef export destinations from the United States (see graph below).
With the expectation that reduced beef production in the US will continue throughout 2023 and into 2024 at a time when Australian production increases, Australia is likely to make further export market share gains, FAS said.