Australian red meat exports hit four-year high
Red meat exports for October were 177,665 tonnes.
North America was the largest export market for beef and lamb, while China was the largest export market for mutton.
Total sheepmeat exports in 2023 are likely to exceed the record set in 2022.
Australian red meat exports hit a four-year high in October, rising 5% from September and 39% from October 2022 to reach 177,665 tonnes, the highest monthly figure since September 2019.
Beef
As slaughter numbers continue to rise, export volumes have been rising alongside them. Beef exports rose 7% from September and 44% year-on-year (YoY) to 105,131 tonnes, the highest overall beef export volume seen since 2019.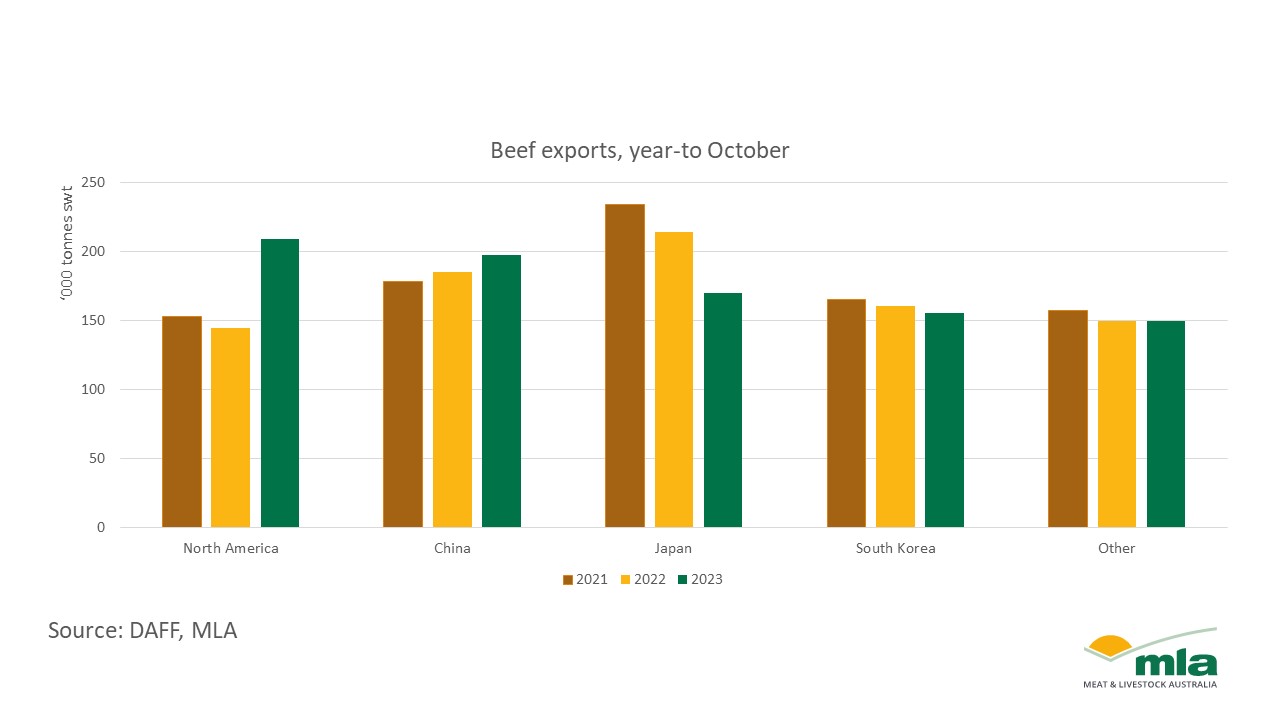 Exports to North America have been the clear standouts in volume terms, lifting 118% YoY in October to 31,577 tonnes. This has made North America the largest market for Australian beef this year, which is a substantial turnaround from 2022 when the US was Australia's fourth-largest export market, hitting a 20-year low of 133,946 tonnes over the year.
China was the second largest export market in October, with exports lifting 37% YoY to 19,675 tonnes. This means that so far in 2023, Australia has exported 171,587 tonnes of beef to mainland China, which puts Australia on-track to go over the 196,349 tonne quota-free limit set out in the Australia-China FTA before the end of the year, which would trigger the quota safeguard and impose an additional tariff on subsequent Australian 
exports.
Earlier in the year, exports to Japan were trending below year-ago levels, as strong competition from US exporters, large supplies of frozen beef in cold storage and somewhat flat consumer spending were impacting export volumes. In a sign that these trends are now beginning to reverse, exports to Japan in October lifted 5% YoY to 16,563 tonnes.
Lamb and mutton
Lamb exports fell 3% from September but lifted 17% YoY to 30,604 tonnes, while mutton exports lifted 23% from September and 51% YoY to 20,197 tonnes. Combined, the 50,801 tonnes of exported sheepmeat is the largest on record, and follows several record breaking months in 2023.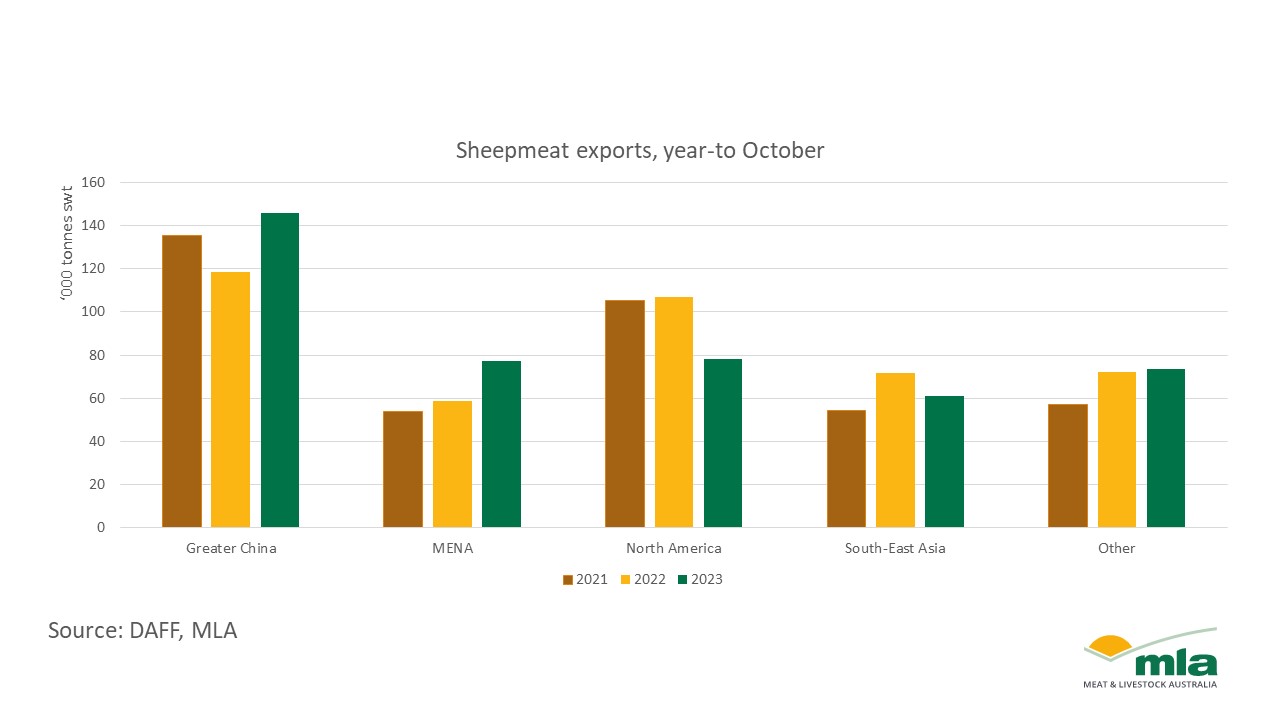 North America was the largest export market for lamb over the month at 7,142 tonnes. Exports to the USA actually fell 20% YoY to 5,641 tonnes, but exports to Canada lifted 46% YoY to 1,400 tonnes. Without the lift in Canadian import volumes, China would have been the largest market. Lamb volumes to mainland China lifted 14% YoY to 6,038 tonnes.
China remained the largest market for mutton, with exports lifting 57% YoY to 10,195 tonnes over October. The second largest market was the Middle East and North Africa (MENA) region, where exports spiked a remarkable 166% YoY to 3,697 tonnes. Much of this was driven by exports to Saudi Arabia, which lifted 255% YoY to 1,261 tonnes, but mutton exports to all major markets in the region lifted by at least 100% from October last year.
Looking forward
Healthy export volumes and increasing diversification of export markets, suggest that Australia is well placed to capitalised on the increases in supply that MLA forecasted in the June Cattle and July Sheep projections. Already, beef, mutton and goat exports are all higher than the 2022 calendar year, and we are likely to see record high lamb exports by the end of 2023.